Rave Guardian App
Get the Rave Guardian™ app for your mobile device!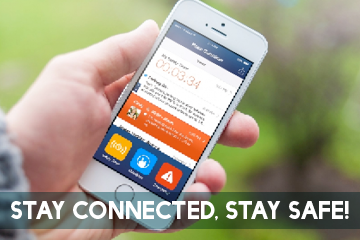 Although optional (and in addition to the automated notification system, or MEMS), all students, faculty, and staff are strongly encouraged to download the Rave Guardian app for mobile devices as soon as possible and begin using on campus.
The Rave Guardian app is available from the Apple App Store or Google Play. Once you download it to your mobile device, authenticate your account with your student or employee email address, then create a user name, password, and personal profile.
Once open, Rave Guardian will display a simple interface with six icons:
Inbox — Manage messages to the District-wide Public Safety communications center
Guardians — Create a network of guardians looking over you, including family, friends, and others you trust
Safety Timer — Allows Guardians to access your status and location so they can alert Public Safety if you fail to check in at a designated time
Send a Tip — See something, say something. Anonymously send messages and photos to Public Safety
Call Campus Police — Make a one-touch voice call to Campus Public Safety
Call 9-1-1 — Easy access to a voice call in case of an emergency
By working together, we can help create the safest possible environment at Maricopa Community Colleges.
Be a guardian today!
For more information about the app, please visit the Rave Guardian™ website or contact your college's Police Department.